Call Now: +1 833 203 1600
End-to-End

Customer Experience Intelligence Engine
TotalCX combines AI and automation technology with call performance training and people power to help automotive dealers identify and respond to service issues and sales opportunities in real-time.
No More Missed Opportunities
TotalCX uses the power of AI and automation to multiply the effectiveness of sales and service teams. Whether voice or text, TotalCX call recording and real-time conversational AI technology captures and analyzes communications, automatically alerting stakeholders to accelerate decision-making that results in better service, faster sales and more satisfied customers.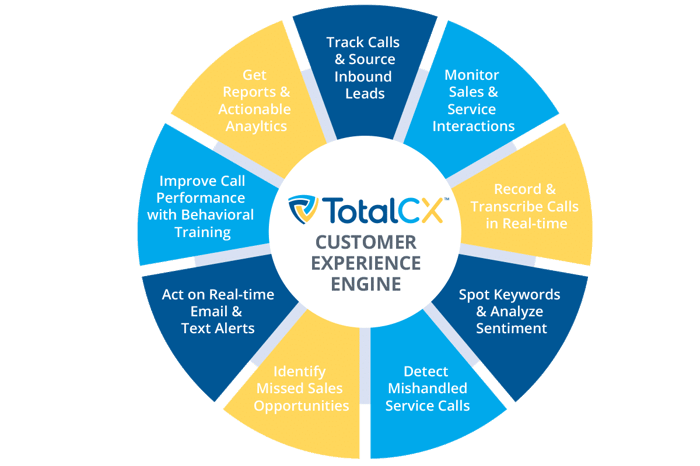 Plus, the TotalCX Customer Experience Platform works with any On-Prem or Cloud Phone System, including our own Award-Winning Phone System.
POWERFUL FEATURES
Tap into business intelligence.


Our AI-driven, cloud-based solution delivers communications, call tracking, click-to-call, call recording, conversation analytics, instant summaries, and more …
… that gives you unprecedented real-time insights into customer interactions so you can improve service and sales.
TotalCX is a trusted call recording platform that's used by organizations for applications, such as:
Ensuring sales and service quality

Resolving disputes

Training sales and service agents

Complying with legal or regulatory requirements

More!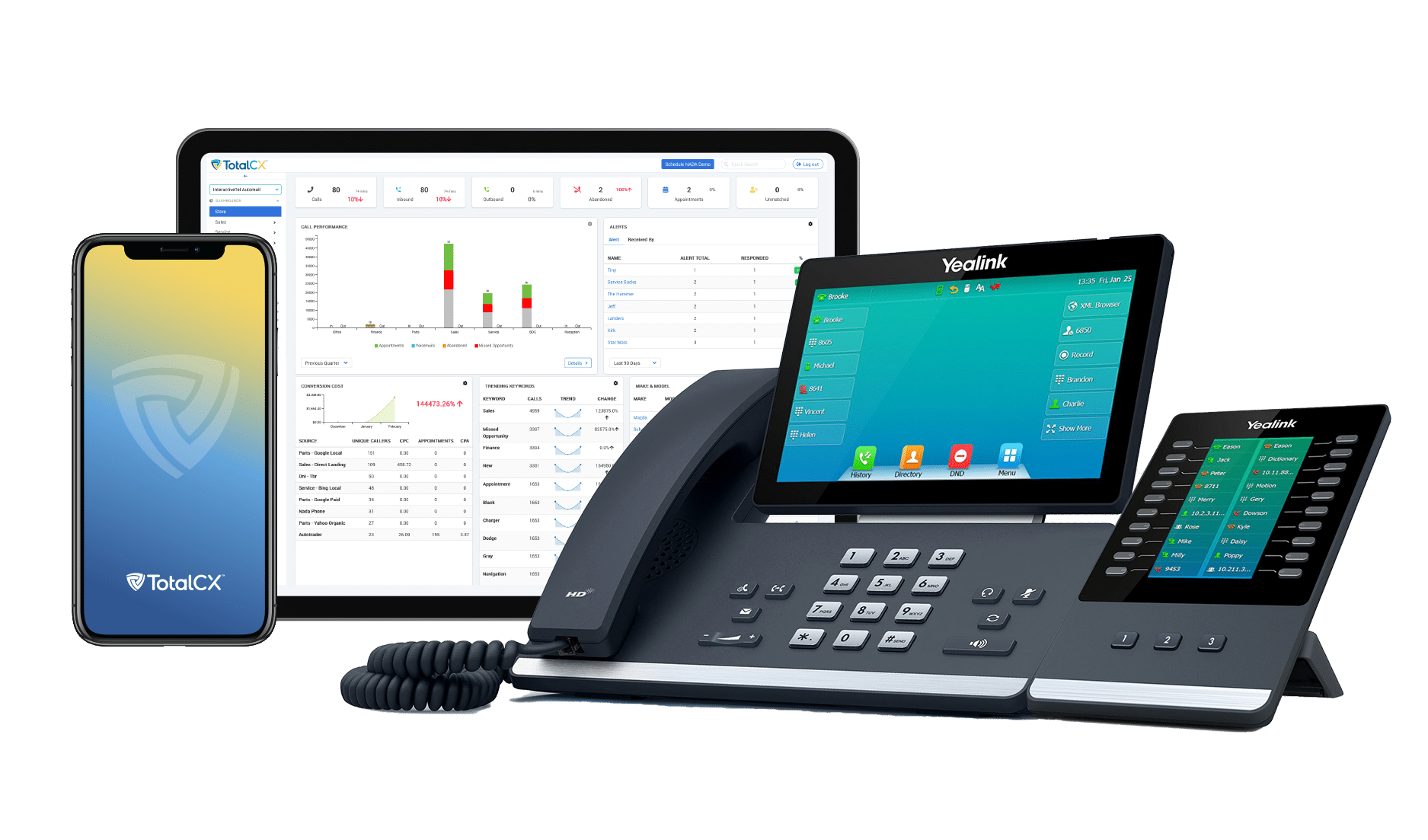 BENEFITS
Did you know customer interactions contain a wealth of actionable data that can fuel your growth?
TotalCX includes these critical features:
Recording Disclaimers automatically inform the caller that the call is being recorded.

Agent-Only Recording enables call recording for only the agent.
Inbound Lead Sourcing
Using Dynamic Number Insertions (DNI) on marketing campaigns, you can:
Go beyond tracking only the number of calls received to also the number of conversions and ROI from any marketing channel

Stop relying solely on inbound website reporting and form fills to determine the sources of your best leads.
Sales Monitoring & Optimization
TotalCX outdoes other sales monitoring systems by providing unprecedented call data in real-time, so you can instantly:
Track the number of calls and leads you get by department and salesperson

Identify sales opportunities with real-time transcriptions and alerts to buying signs

Calculate ROI for lead sources that are converting
Service Monitoring & Optimization
TotalCX has a similar impact on service monitoring, instead of monitoring only a few calls for coaching and training, you can
Monitor 100% of all calls with real-time recording and transcription

Get alerts to trigger words that indicate a customer service issue is escalating

Take steps to intervene in real-time to resolve the situation

Decrease defection rates by addressing issues more promptly.
Real-Time Reporting & Actionable Analytics
Rather than only running historical trend reports, TotalCX enables you to see conversation data in real-time, so you can:
Receive actionable intelligence as situations unfold with Live Transcriptions.

Instantly improve sales and service interactions as they're in progress.

Provide on-the-call coaching

Act on data immediately, in real-time, as opposed to missing opportunities or losing customers while waiting for reports.

View data your way with filtering, sorting, and grouping